Insights
Communicating with clients doesn't end with deliverables. We continuously provide clients with objective perspectives and new insights into industry issues. Read about this, that, and everything else on our minds.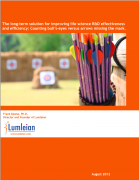 R&D Productivity Missing the Mark?
Only 2 to 3 out of every 10 approved medicines make back their investments. How can the industry get back on target? Counting bull's-eyes versus arrows missing the mark.
Glean some insight in our latest Orange Paper and learn how we help R&D leaders prioritize their portfolios and draw precise arrows that hit the bull's-eye.